Neurovascular Guide Wires are wires of various diameters which physicians use to deliver therapeutic devices to either clots or aneurysms in the arteries in the brain. Blood clots are the results of obstructions that restrict blood flow to the brain—robbing the brain of necessary nutrients. Aneurysms are bulges that form or "balloons" in the brain's blood vessels that can leak or rupture which causes bleeding into the brain. Problems such as these if left untreated, lead to strokes and hemorrhaging that can cause serious disabilities or death in a patient.
To treat these procedures, a neurovascular guide wire must first navigate through the brain's neurovasculature to not only reach the affected, and sometimes tiny blood vessel but to also provide a delivery platform for the subsequent therapy of choice — If the therapeutic device were a train, the neurovascular guide wire lays the track! Common treatment devices include microcatheters, embolic coils, flow diverters, and stent-retrievers. Anatomical and morphological factors often make the delivery of a neurovascular guide wire a challenge, requiring purpose-built neurovascular guide wires to overcome these delivery challenges.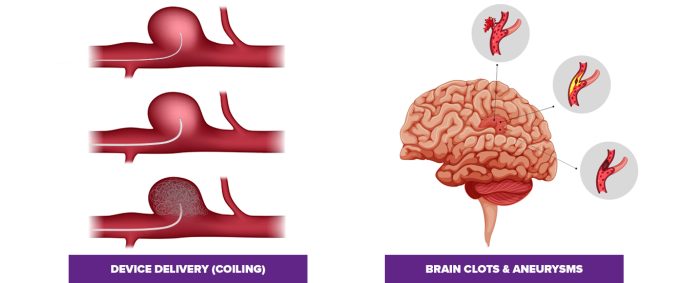 Effective Neurovascular Guide Wires
Neurovascular guide wires are engineered under a precision-based process in order to actualize the necessary characteristics for these delicate procedures. These wires must be steerable, with very soft tips so as not to damage the neurovascular arteries. At the same time, they must be sturdy enough to deliver devices such as aspiration catheters, to remove a clot in the artery, or embolic coils, to protect an aneurysm from rupture.
Key Neurovascular Guide Wire Factors Include

Our Neurovascular Guide Wires Are Unique
Asahi's market-leading innovation is a fully integrated production process that incorporates 4-core technologies into products from concept to delivery. Everything at Asahi is done in-house, from raw materials to finished products.
WIRE FORMING TECHNOLOGY
Ultra-fine braiding, formed into various profiles at the micron level, produces a flexible coil structure to optimize the coronary guide wire's flexibility and tensile strength.

WIRE DRAWING TECHNOLOGY
Asahi's unique wire drawing process allows for wires to be made with extreme precision to create extra fine wire components — such as the core of a neurovascular guide wire in specific diameters and hardness specifications.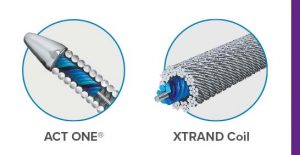 ENHANCED TORQUE & TIP DURABILITY
Proprietary technology such as the ACT ONE® and XTRAND coil technology enhances torque force, torque response, tip durability, and flexibility — ensuring smooth transmission and steerability even in the most challenging anatomy.

COATING TECHNOLOGY
Advanced coating process to apply different levels of optimal lubricity upon the neurovascular guide wire for smoother travels through the lesion.
Asahi Intecc's Neurovascular Guide Wire Chart:

Asahi's Chikai Neurovascular Guide Wire Family
A great example of our neurovascular guide wire portfolio is the Asahi Intecc "Chikai" series of all-purpose guide wires. As shown below, our CHIKAI X010 can be best used for distal complex cases, while the CHIKAI 008 works well in tiny vessels, and the regular CHIKAI 10 can manage the cases where more support is needed. These three are but a few examples from the overall Chikai family tree of neurovascular guide wires that Asahi Intecc offers.
ASAHI CHIKAI X010
FRONTLINE/FINESSE NEUROVASCULAR GUIDE WIRE
Precision Cases: Tiny Vessels
Flexible shaft and polymer jacket for the challenge of a distal anatomy
ASAHI CHIKAI 008
FRONTLINE/FINESSE NEUROVASCULAR GUIDE WIRE
Precision Cases: Tiny Vessels
Soft Tip and Body for Distal Anatomy

Get Your Own Custom Neurovascular Guide wires
Asahi Intecc, USA has a vast portfolio of neurovascular guide wires specific to your cath lab, fellowship,
and hospital — see for yourself at any of the links in the top menu
Reach us on our contact us page here, email us directly at customersupport@asahi-intecc.com
or call Toll-free: 855-286-9473
Finally, click any of the icons below to get up-to-date news and events on our social media channels